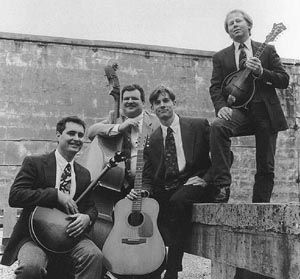 "...Their playing displays passion, a feel for what traditional bluegrass audiences want to hear, and a presentation that is fresh and exciting."     Bluegrass Unlimited, July 1997
"...strong lead singing, a good bluegrass pulse to the rhythm, and some outstanding instrumental work, all done in a time-proven traditional Bluegrass feel and style."     Bluegrass Unlimited, March, 1996
"A third generation bluegrass band to be around for a long time...Keep it up, guys!!!"
     Larry Rice
Endless Highway played a unique style of driving, traditionally-oriented bluegrass, performing in front of enthusiastic crowds at the Withlacoochee Bluegrass Jamboree, the Florida Folk Festival, and the Wings and Strings Festival among many others. Endless Highway was the winner of the 1994 local Pizza Hut Bluegrass Showdown and then travelled to Hattiesburg, Mississippi to compete in the Southeast Regional Showdown where they finished second. These appearances soon led to an affiliation with Mid-Knight Records and the release of their debut recording in 1996. A Showcase spot at the IBMA convention in Owensboro, Kentucky soon followed.
Endless Highway was:
Greg Turner-mandolin. Greg grew up with bluegrass through his father's gospel band and started playing as a young teenager by learning from tapes of his father's mandolin lessons with Larry Rice. His playing matured during his 9 years of travelling with the Bluegrass Parlor Band and occasionally with other bands in the Bradenton area, and later with Valla-Turner-Williamson. He was well-known for the incredible tone and taste in his playing and was widely regarded as the best mandolinist in Florida and one of the best in the country.  Greg passed away far too soon on November 9, 2013.  We miss him.
Scott Anderson-banjo and lead, tenor, and baritone vocals. Scott began his musical career with the contemporary and Southern gospel of First Light, then played the traditional bluegrass sound of Tom Henderson's Bluegrass Parlor Band, followed by the driving grungegrass of 
Endless Highway 
, and the sweet gospel of Gentle River.  Following the critical success of his first solo project Rivers, stints as banjoist and vocalist with
The Jim Hurst Band 
and 
Keith Sewell
, and a breakthrough CD project with his daughter Amanda on Another Day, Scott brought these influences together into the powerful acoustic sound and beautiful family harmony of the Amanda and Scott Anderson Band.  With an All-Star cast Scott dredged up a swampy soup of originals and favorites on his latest project, Tales from the Swamp. Scott has also performed or recorded with 
Claire Lynch
, 
Sam Bush
, 
Vassar Clements
,
Larry Rice
, 
Byron Berline
, 
Adam Steffey
, 
Sierra Hull
, 
Clay Hess
,
Chubby Wise
,
Allen Shadd
, and 
Chief Jim Billie
, and the Naples Philharmonic Orchestra (yes, with a banjo!)  Scott has been featured in 
Banjo Newsletter
, and writes for the magazine as well, including articles and interviews with
Tony Trischka
,
Bill Evans
,
Barry Abernathy
,
Greg Cahill
,
Scott Vestal
,
Cory Walker
and
Béla Fleck
. Scott is also a teaching mainstay at the
Suwannee Banjo Camp
every spring.  
Gabe Valla-guitar and lead and baritone vocals. Gabe won the 1992 Merle Watson Memorial flatpicking championship after playing guitar for only 2 years. As would many bluegrass guitarists, he credits Tony Rice with being his biggest influence. Gabe has used that foundation to develop his own style and his playing is some of the more original that you will hear. He later performed with Valla-Turner-Williamson and Gatorbone. He has recorded on numerous sessions for radio and television and also played on and co-produced Larry Rice's "Notions and Novelties."
Mike Hyde-bass and lead, baritone, and tenor vocals. Mike began playing bluegrass on guitar in his hometown of Hattiesburg, Mississippi with Sweet Dixie. After his graduation from Southern Mississippi University, his job as a furniture salesman brought him to Gainesville where he met Gabe and later Greg and Scott at festival jam sessions. Within a couple of years he joined Greg and Scott in the Bluegrass Parlor Band as the bass player before co-founding Endless Highway.